Our custom Flower Moxie Supply Kit covers all the bases when it comes to DIY wedding bouquets, boutonnieres, and corsages! Each kit contains Green Floral Stem Tape, Professional Floral Shears, 1 Box of Pixie Pins, 10 Packets of Professional-grade Floral Food, 15 Zip Ties, and 3 Yards of Oasis Bind Wire!
Description

Quantity Help

Shipping

refund
Quantity:   1 Kit
Contents:    1 Roll of Green Stem Tape, 1 Pair of Floral Shears, 10 Packets of Fresh Floral Food, 3 Yards of Tan Bind Wire, 1 Box of Pixie Pins, 15 Zip Ties, and a leaf/thorn stripper.
Uses and Purposes
Our Basic Moxie Kit has your floral bases covered:  

1 Roll of Stem Tape:  Uses include bout and corsages, protect cake flowers, floral crowns, or can tape-off bouquets
1 Pair of Floral Shears/Snips:  To cut all the things!  You may want to purchase more snips for helpers.
10 Packets of Fresh Floral Food:  To keep flowers fresh longer!  Make sure to follow the instructions on the water/food ratio.  Do not serve up over-concentrated water to your blooms. 
1 Box of Pixie Pins:  Secure bouquet ribbon, bouts, and corsages.
15 Zip Ties:  Perfect for tying off your bouquets.
3 Yards of Bind Wire:  Perfect finishing wrap for your bouts!
(NEW!) 1 Thorn Stripper: Remove thorns and leaves from your roses! Click here to watch a brief video on how to use them.
Quantity Help:
1 Moxie Kit is enough to cover the entire wedding, however, you may want to purchase additional Floral Shears/Snips for helpers!

Most items ship within 2 business days, Mon-Fri.

All items are shipping via ground, with the option to upgrade to express shipping at checkout.

Express shipping cannot be delivered to a PO box.

If your event is less than 7 days from the date of purchase, it's strongly recommended to choose express shipping at checkout.
Unused products in their original packaging and resellable condition may be returned within 30 days.

Original shipping and handling costs are non-refundable.

Buyer is responsible for the return shipping costs.

Cancellations are accepted only when the items have not shipped.
FAQs

When should I place my order?

It is best to order your supplies at least 14 days before the date you need them. We do offer expedited shipping which is recommended if your event is less than 14 days away. 

What supplies do I need?

Check out our Supply Help page for guidance and a printable supplies checklist!
Shipping

When will my order arrive?

Supplies are shipped FedEx Ground or USPS. All supply orders are sent immediately to the warehouse to be fulfilled. Back ordered items or order issues such as an incorrect address may delay order processing. We will notify you as soon as your supply order ships. Most orders arrive within 14 days of being shipped. Flower Moxie cannot control delays caused by shipping carriers.

Do you ship outside of the US?

No, we currently cannot ship outside of the United States. 

Do you offer insurance?

Route Package Protection offers you "peace of mind" package protection for all of your orders at an affordable price. 

Route Package Protection is automatically added at checkout and unlocks full package protection and seamless resolution for order issues. If you decide you do not want Route, you may remove it from your cart before you check out.

Additionally, Route automatically connects to everything you've ordered from all your favorite retailers while allowing you to visually track your packages, anytime, anywhere.

More information
Easy and functional! Just wish it had included glue but was nice to order everything in one place and know for a fact it'll be good quality
Everything worked perfectly
Great for our aisle decor
Perfect size and looked great.
Makes Everything Super Easy
I've loved every step of working with Flower Moxie, and this kit was exactly what we needed to allow self/friends/family to make flower magic happen. Thanks for making everything so simple and straightforward.
I do recommend still getting some extra shears, the flower stripper things (wow - you can have a whole stripper team going ;) in addition to the arrangers...). Go team!
How do you use the silicone nubby thing?
Hey, got the kit, looking forward to using it soon. I believe the silicone nubby thing is meant to be used for stripping foliage off stems, but not sure if it would get caught on rose thorns??
I'd like to be rid of thorns before arranging! I watched Abigail's flower unboxing, flower prep video but she used a rubber palmed garden glove to strip stems. I have plenty of those but thorns still stick me through them!
——
Thanks for your input and link to video of how to use your silicone thorn stripper!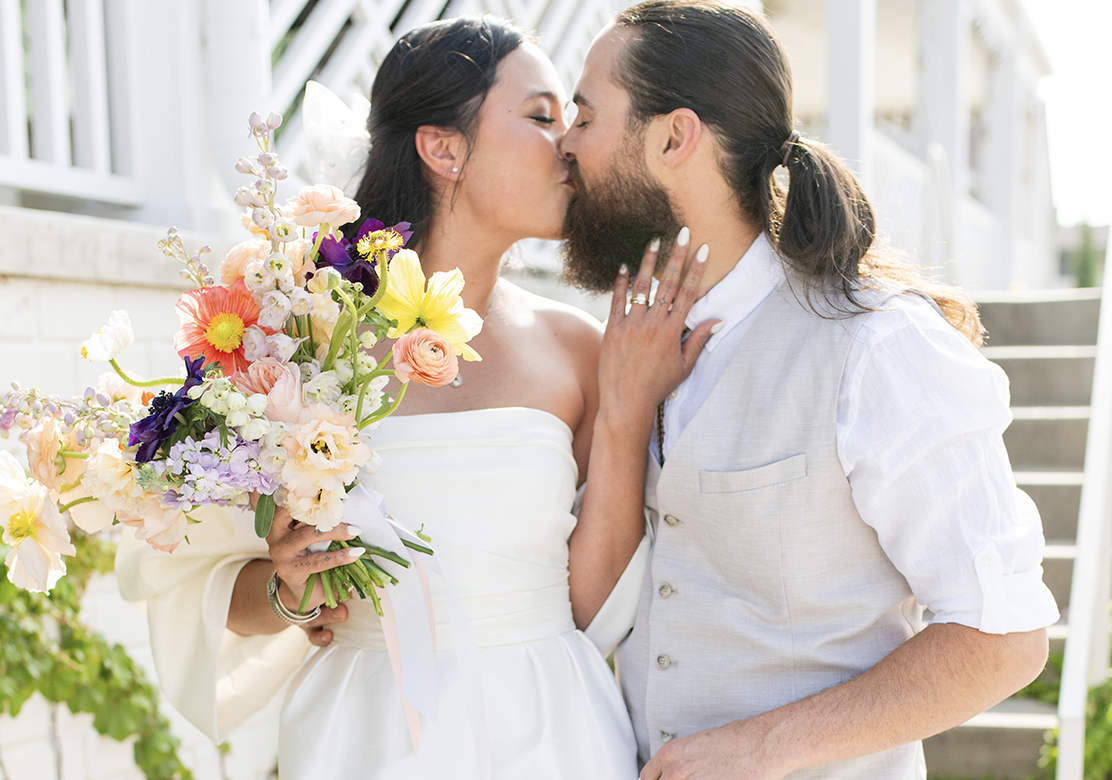 FLOWER MOXIE
Fresh DIY Wedding Flowers
Visit our sister store, Flower Moxie, for all of your DIY wedding flowers! There you'll find DIY wedding flower packages, wedding greenery and foliage, fresh wholesale flowers, along with loads of guidance, tutorials, and custom design options!
MOXIE BLOOMS
Fresh Bulk DIY Flowers for Parties
At Moxie Blooms, we offer a large selection of bulk flowers, flower bars, pre-made bouquets, girls' night parties, and more!